Do you feel stuck in your research or overwhelmed by what you are expected to do? Would you like someone other than your supervisor or PI to talk to about the challenges you face conducting your research whilst juggling other projects and priorities? Would you like to be listened to by someone who understands what it's like to work in academia? That is exactly what we do.
We work with researchers so they feel more positive about the direction of their work and more confident that they will be able to achieve success. We put you in control. Whether you are completing a thesis, conducting research as a post-doc or an permanent member of academic staff we support you to get to where you want to be.

Still not sure?
Just listen to some of the researchers we have worked with.
"Katy's ability as a coach has helped me to realise what is important to me, and to make that into a series of concrete, achievable goals. Working out exactly what each goal is, and separating this from other possibilities, has formed a fundamental part of each session. The change of mindset that I have achieved over the course of the coaching sessions has been to be able to prioritise what I would like to do by gradually changing my current work habits. Without these coaching sessions, I think that I would still be dreaming, but not achieving the career that I would like." 

Dr. Dorothy Hardy
Research Fellow in Manufacturing of Functional Electronic Textiles – Nottingham Trent University
"Working with Katy has led to an increase in my productivity and self-confidence. As a PhD student, our work can be quite solitary, and it is easy to consider every set back a personal failure. With Katy's support, I've learnt to be more confident in doing my best, and knowing that that is good enough. I've learnt several tools that I currently use when approaching a new task or improving an aspect of my life. They allow me to be more efficient and understand the steps taken to achieve the target. Overall, I feel more confident in and out of my work, and I infinitely more positive about where I'm going in life and the person I am becoming."

Angel Matoke-Njagi
Law, University of Warwick
---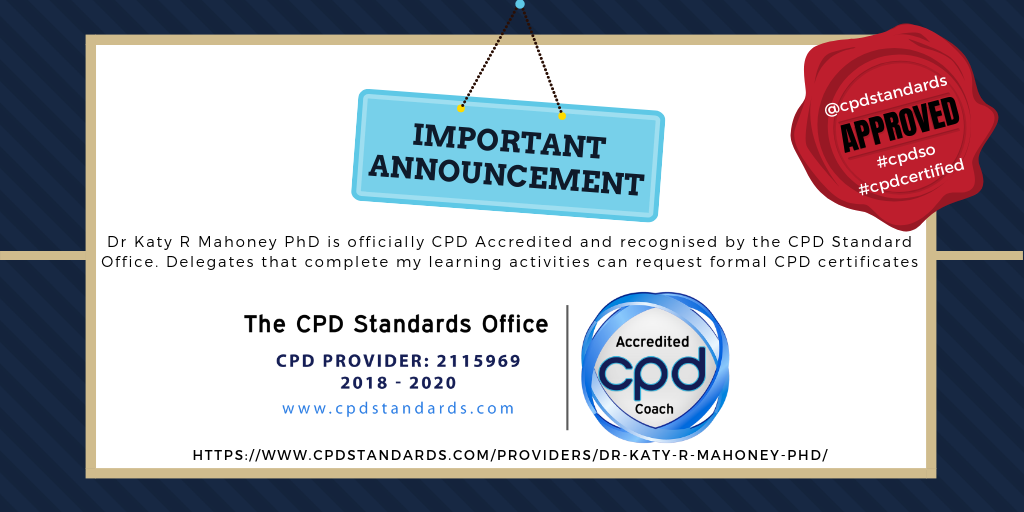 Our coaching is accredited by the CPD Standards Office. This means our coaching hours can be used towards professional standards awards and charter status applications. Contact us to find out more.