A moment of calm when you need to focus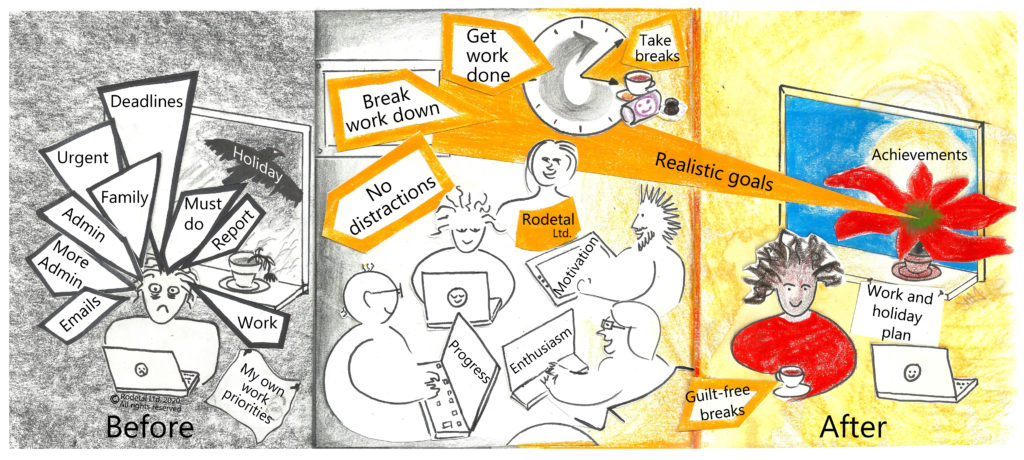 Productivity in Focus is a complete immersive learning and development experience. You will be encouraged to step away from your role and intentionally refocus on a task, job, or project you have put off or can never find the time to focus on. You will share your productivity challenge with your peers and be supported to get results. In short by the end of this course you will have got stuff done and ticked things off of your to-do list that have been on there for far too long.
Productivity in Focus includes the opportunity to:
Learn 'staying focused' techniques including goal setting, performance and motivational drivers
Identify performance gremlins and how to harness their power to propel productivity forward
Learn how to identify powerful thought patterns that will help you overcome procrastination
Spend a full day dedicated to being productive
Produce tangible research outputs
Productivity in Focus gives you protected productivity time. Time for study, time for reflection, time to focus, time away from the demands of being a trainee or member of academic staff and time focus on your priorities. This isn't a lecture – this is the opportunity to be coached live to get stuff done. Take a look at what others have achieved as a result of attending Productivity in Focus.
A plan and structure outline for a project, including identifying relevant approaches for each stage
An initial draft of a paper
A project proposal
All corrections to project document
Completed a systematic review
A funded residency application
A 2nd draft REF output
The right mindset for research; a paper and presentation started successfully
A conference presentation framework with images and draft text
Grant application finalised
Fellowship application mapped to criteria
Proof-read an CPD assignment, made adjustments to content and structure, organised references and updated my CPD portfolio!
Exam paper coursework
What you need to bring:
Laptop (and charging cable)
Headphones
Passwords and login details for any online portals you will be using
Files and folders of work you are focusing on
Pen and paper
Layers (We can never get the temperature right for everyone in the room so please come in layers to add or remove as needed!)
Water bottle and a little treat to reward progress.
Course run by Dr Katy R Mahoney, accredited CPD coach at Researcher Coaching (@researchercoaching)
What others are saying about this course:
"I have completed my literature review searches and formed an outline for my project. This courase has proved that I can manage my workload with the right approach by focusing on achievable, realistic smaller goals rather than vague ones. I would recommend it to my colleagues."
OOPR, North West. Sept 2022
"This course made me set aside the time to focus on a specific goal when returning to training. It was helpful to find strategies that work for me to increase productivity. As a result I have completed my revision of specific emergency guidelines and started to build a plan for ongoing revision regarding return to work. It feels useful to have made the first step in making a plan for returning to clinical practice. The course builds confidence to set tasks that are not too overwhelming."
OOPR, North West. Sept 2022
"As a result of attending this course I aim to set more realistic goals for work-based sessions and use chunks of time as targets for achievements, separated by breaks. If I had to describe this it course it would be 'a workshop where you decide on a work-based goal you wish to achieve, and are provided with structured time slots and useful target-setting guidance in order to help you achieve this goal.'"
OOPR, North West, 2022
"This course allows us to actually do some work and I'm keen to attend another! I have started a research paper redraft and learnt a huge amount about myself and how I work that I will take forward into my working life. All doctors should attend this session and it would be great for medical students too. This course is the key to unlocking all the time you have been wasting!"
OOPR, North West, Sept 2022.
"Today was non-judgemental, focused, goal driven and helped me in all different kinds of work (not just research). I ironed out a technical blip I'd been putting off potentially as a method of procrastination. Nearly finished a section I'd been putting off for a month. Knocked over a big obstacle and showed me how nice it is just to get on with it. I would definitely recommend this to others, I was more effective in less time, everyone would benefit from this."
OOPR, East Midlands. March 2020
Productivity in Focus has been running since 2017

Join the hundreds of researchers, medics, clinicians, teachers, artists, lawyers and small business owners who have maximised 6hrs of productivity to achieve amazing results.
,