A moment of calm when you need to focus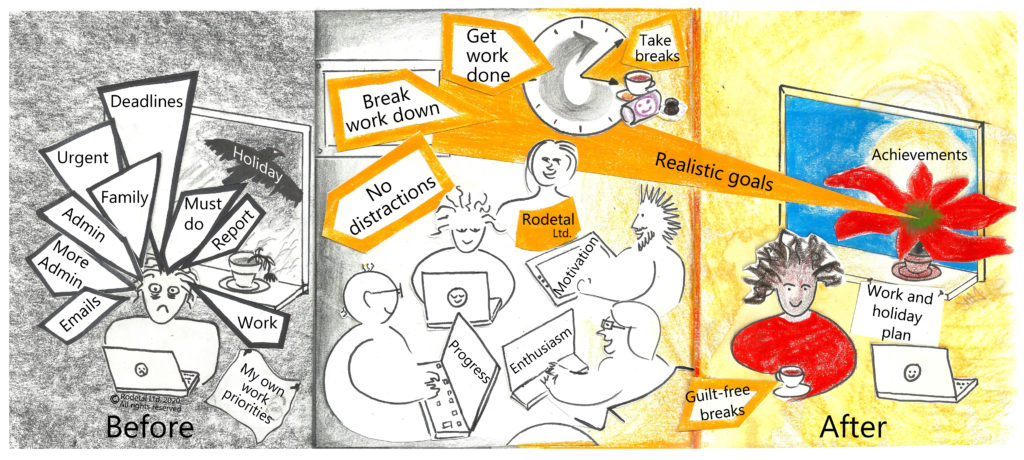 Productivity in Focus is a full day group coaching session with follow-up CPD Standards Office accredited coaching appointment with Dr Katy R Mahoney by video conference. This programme can be run as a fully online and remote access session, as a live session with optional remote access and as a full face to face session. The session designed especially for those who need to complete research, projects or a qualification as part of their role but find that life or work gets in the way of progress.
Productivity in Focus includes the opportunity to:
Learn 'staying focused' techniques including research/writing goal setting, performance and motivational drivers
Identify performance gremlins and how to harness their power to propel productivity forward
Learn how to identify powerful thought patterns that will help you overcome procrastination
Spend a full day dedicated to research productivity
Produce tangible research outputs
The retreat is a great opportunity to work on your research and get the job done in a quiet and productivity-focused space. It's strength was articulating everyone's goals for the session, setting an amount of time to finish and completing the tasks. It also offers the chance to think and improve your way of working and doing things.

Researcher attending December 2018 Productivity in Focus retreat 
I got a phenomenal amount of work done, it was great!

I was super productive, I've not attended anything similar – I would recommend to a friend

I learnt how to focus to get things done and identified strategies to improve productivity


Very helpful, a structured approach with time to work on individual projects

Good balance between learning and getting stuff done

Advice that made an immediate difference

A very helpful workshop with tips that can make a real difference to productivity

Researchers attending Health Education England (East Midlands) Productivity in Focus Retreat, 2018
When asked what they have achieved, participants from gave these examples
Organised and made sense of messy tasks, thoughts, ideas that have been floating about! This means I have the confidence to carry on.
I have achieved almost everything I wanted. It has helped me refocus.
Started a new research project. It means a lot – I have been putting this off.
Sorted loads of data, this means I have moved forward.
Huge amount – most of a publishers proposal. It means masses – I really feel I'm moving forward.
Have achieved my minimum task – Love it. This means I have the route to success for my PhD and perhaps a good academic career.
I have achieved all my objectives and made a good start to an academic conference paper, this means I can confidently continue to finish this.
,